Arcana - Vol.1 Essence of All

Subject: Arcana - Vol.1 Essence of All
by EvenAngels on 2009/12/24 2:40:16





Since the birth of time there have the Arcana, 22 essences that act as both creators and overseers of the world. The give life, hope and happiness, but also take away all a person has when the time is right.

Upon birth, all beings are approached by the Arcana, and any one of them may become part of that being's soul, dictact that being's lifestyle and traits. Sometimes, the Arcana can also be awoken from within, giving people tremendous abilities when faced with a horrific crisis.

When Einar and Alexia are returning home through the forest from running an errand for a neighbour, bu chance they find themselves taken to a dark and disturbing version of the forst. They are subsequently attacked by a hideous creature which forces their Arcana, the Moon and the Empress respectively, to awaken to aid them in survival before returning them to the normal world. With a feeling of relief they go home to rest.

However, when Einar wakes up the next morning, Alexis is nowhere to be found. Now, with the aid of the Moon Arcana he sets out to find his sister, only to end up in a much more disturbing turn of events.




Name: Einar
Age: 19
Born in a small forest village, Einar spent his youth caring for his sister Alexia after their mother passed away. He is often very energetic and willing to take risks. However, even he has to acknowledge his ignorance.

Name: Alexia
Age: 16
Alexia is the younger sister of Einar, and has spent almost all of her life in his care. She is a feisty young girl who is quick to anger, but she is also very happy to help people. Wanting to protect her brother, her Arcana awakens at the same time as his to act as support.

Name: Haze
Age: 16
Haze was born and raised in the small, isolated and unnamed village located at the bottom of the Lucia Valley, reffered to by most as the Lucia Valley Village. The only experiences outside of the village she has ever had are from collecting fruit and vegetables from the local area.

Name: Isaac
Age: 26
A Drifter by nature, and hired hunter by trade, Isaac often comes across as cold. However, those who know him well know that, in truth, he is a kind, caring and understanding individual.

Name: Rachael
Age: 27
After the fall of the once great Kingdom of Kiro, Rachael and the other surviving soldier of Kiro were forced into hiding. She believes that everything should be in balance and that the existence of a group known as the Inquisition is causing the world to become unbalanced in a less than favourable way.

Name: Aeon
Age: Unknown
A seemingly dangerous man who appears to have lost his mind. He is strangely obssessed with Haze, as well as someone he only ever refers to as "Her".




The graphic style of the game is a mix between Mack's Tilesets, some RTP tiles and Kaduki sprites. I also chose to keep the standard battle system with a few cosmetic changes via Star's ATB system.

"Magic", known as Arcana abilities, will only be available after a character has "awoken" their personal Arcana, by either finding the corresponding it (know as an Arcana Drop) or through events of the story.

As well as this, each character will have and learn non-Arcana skills via leveling, although some will require the use of an item to be obtained.

As for the general feel and style of the game, it takes place in a semi-medieval world. However, it will use modern day social structures as well as having a mild influx of Steam Punk style.

The overall colour, style and story progression will striver for a surreal style, including distorted world areas, and "odd" mixtures of textures and colours. This will also be achieved by the inclusion of the "Dark World."




* Front view ATB battle system.
* Hidden dungeons and boss battles that require planning and strategy to beat.
* "Secret" Arcana abilities that must be found before they can be used.
* Surreal world and enemies.
* Dark and mature plot.
* Over 200 weapons and armor to find and collect.
* Limited number of skills in battle means you need to think ahead.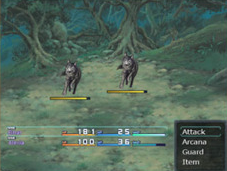 http://www.youtube.com/watch?v=cNljzIyasI0 - Splash Scene Video
http://www.youtube.com/watch?v=CWAYRFewn4Q - Main Title Theme




Enterbrain
Mack
Sakura
Kaduki
Sony
Skaylae
Suichi
Moghunter
Mr. Anonymous
Reijubv
Reperawin
Star
Synthesize
Yanfly
Woratana
Obsidian Dawn



Chapters 1 and 2 are currently being reworked including a better battle system, more eye candy, comicbook style cutscenes (similar to max payne) and better dialogue. However, the old versions of both chapters are available below.

Chapter 1 and 2, version 1.2: http://www.mediafire.com/?nl3nilyfz3j




Quote:
A Nice Demo That'll Probably Turn Into An Excellent Game

Quote:
Quote:
The first boss is a doozy, and will probably give you a run for your money the first time

Quote:
It's truly worth a look, to anyone who plays user-made games like this.

Quote:
The relationship between Alexia and the main hero seems very realistic so far.

Quote:
Probably some of the greatest VX mapping I've ever seen.

Quote:
Quote:
The Battle System is highly engaing and keeps the user awake

Quote:
Quote:
Quote:
An awesome game with a good history

Quote:
This is a very well organized and thought out project and with proper licensing contracts this could be a commercial game

Quote:
This game reminds me of a darker version of the first few FFs